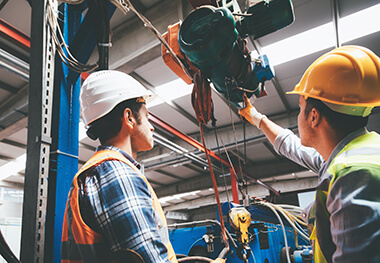 Certified Technicians
Downtime costs money! That's why service and repair of equipment has been and continues to be an integral part of the Illinois Crane mission. Whatever the emergency, expert help can be dispatched to your facility with a simple phone call. Illinois Crane service technicians are on-call 24-Hours a day, 7 Days a week to assure that disabled equipment is repaired quickly and put back in service as soon as possible… all with a minimum of inconvenience to the customer! Illinois Crane also offers pick-up and delivery of your broken hoists or brakes for repair in either our Chicago or Peoria facility.
Not all equipment problems are avoidable, but perhaps a scheduled service and maintenance program with Illinois Crane could help avert unplanned work stoppages due to equipment breakdown. Planned maintenance and inspection programs can help detect potential problems, institute preventive measures and schedule necessary repairs, thereby keeping your production lines running smoothly. Also, the "Hoist In A Hurry" program has provided a welcome temporary solution to many customers faced with unexpected hoist failure.
Over 50 OEM Certified & Trained Technicians in the Midwest with over 25 years of experience in repair and testing!
24 Hour Service
Contracted onsite Services
Federal & State Inspections
Certified Load Testing
Authorized Warranty Center
Preventative Maintenance Programs
Computerized Inspection Reports
Below the Hook Lifting Devices, Sling & Rigging
Inspection and Maintenance:
We offer OSHA inspections and service on all brands of overhead cranes and hoists
Preventative inspection and maintenance programs
Computerized inspection reports
Below the Hook Lift Devices, Slings & Rigging
Service & Repairs :
Our service team is available 24 /7
OEM certified technicians to troubleshoot and repair your equipment
Types of repairs:

Complete Hoist Repair onsite or in-house
All types of radio transmitters and receivers
Runway electrification
Major gear case component repairs
Maintenance Programs: Onsite, monthly, quarterly, Semi-Annual and Annual
REFURBISHING AND MODIFICATIONS:
We refurbish your old equipment saving you time and money
Modernize your equipment for maximum speed control and performance
Our modernization programs will increase the longevity of your overhead crane and hoist and also increase your production with less downtime
DC static step less upgrades to current VFD technology
Using VFD (Variable Frequency Drives) to control your crane and hoist, to help achieve greater speed adjustment, improve load control, increase hoist life, and to help reduce costs.
LOAD TESTING:
Load testing and inspection of overhead cranes is required by many safety regulations, national standards, and manufacturers
We will load test @ 125% of the rated capacity for all new installations to comply with OSHA specifications and safety requirements
Load testing capabilities up to 100 ton